A complete Vertically integrated software solution for paygo management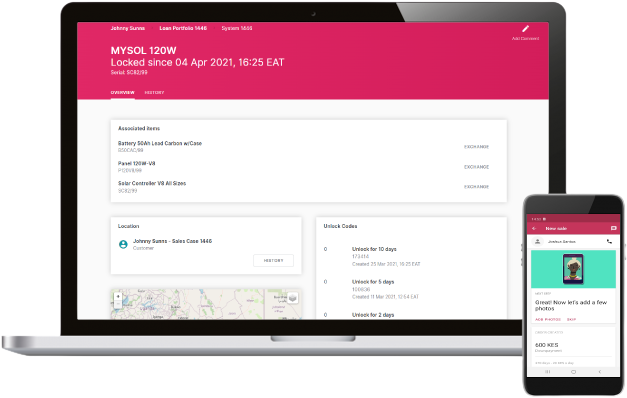 Unlock Your Potential: Streamline Portfolio Management, Boost Cash Collection, and Supercharge Sales & Agent Tracking with Our All-in-One SaaS Solution!

Payment integration
Effortless & Secure Business Transactions: Revolutionize Your Revenue Stream with Seamless Mobile Money Integration.
Paygee can be integrated with any mobile money, bank or payment processing provider.
Received payments are instantly triggering an unlock token.

CRM
Track all customer interactions and manage various lead conversion and sales workflows.
Enjoy a dedicated customer support ticketing tool to record, escalate and solve tickets. 
A custom surveys editor allows for unlimited data points and details for KYC, satisfaction or credit assessments. 

Agent management
Workforce module - a complete coordination tool for sales agents, shop managers and technicians.
Manage agent inventory stocks, assign tasks and track  performance. 
Configure various agent commission schemes to incentivize sales, service and task completion.

Sales
Use Paygee to sell any paygo and non-paygo products.
Configure any number of pricing models and combinations of discounts, penalties, fixed or flexible repayment terms, with or without credit assessment. 
Assign prices by hierarchy, geography, or individual prices for every shop and agent.
Get a ready to print invoice for every sale. 

Logistics
Professional product distribution and stock management tracks every item, big or small, and all their interaction touchpoints.
Manage inventory stocks, item movements and transports, incoming supplier shipments and much more. 
A stocktaking feature helps to verify  inventory and identify missing or misplaced items.

Paygo
Fully automated - Paygee enabled devices are automatically locking incase the customer misses a payment.
Unique device specific unlock tokens are generated automatically for every recorded payment or also manually on demand.
Paygee allows for full remote control, lock/unlock, telemetry and updates for  GSM/data capable devices. 

Accounting
A complex accounting module for managing everything around customer payments, portfolios, debt and repayment tracking.
Create portfolios by leveraging on sold paygo devices to effectively promote and upsell new items and services. Missing a payment will of course lock the leveraged device. 
Keep track of problematic paying customer promises and set up next action tasks and schedules.

Maintenance
After sales service management tool for agent tasks, installations and maintenance.
Designed to work with our mobile app to assign and track agent tasks, product installations and maintenance work. 
Assign jobs based on agent workload, availability and location. Track completion and performance, GPS route, logs and proof of work with pictures. 

SMS Integration
Dedicated SMS Gateway integration, raising a custom SenderID inclusive.
Benefit from all the automation on keeping customers and agents informed on their repayment  performance and actions. 
Use it with our CRM module send bulk SMS for promotions, marketing campaigns and customer engagement. 

Reporting
Automated report generation and dashboards support company data driven decisions.
Configure reports, set targets and track performance. 
Direct backend access allows the the Paygee data treasure trove to be used with any BI tool. 

Integrations
Connect Paygee with anything
Custom API's allow our Paygee backend to integrate with any platform or software tool. 
Alternatively use our Zapier integration to quickly connect Paygee to thousands of other platforms and tool – all without any coding experience. 

Customization
Every business is unique - so is every individual Paygee platform.
Create your own company structure, hierarchy, user access and permissions settings.
All clients enjoy their own standalone, separately deployed  Paygee instance with fully configurable menus, drop-down elements,  SMS templates, local languages,  labels,  workflows, and much more. 
Sell anything with the Paygee Sales App
Paygee's flexible mobile app allows agents to sell any products and services on the go. It comes equipped with powerful inventory management, quick customer registration, and enables PAYG product activations, sales, and payments, even in the most distant locations.